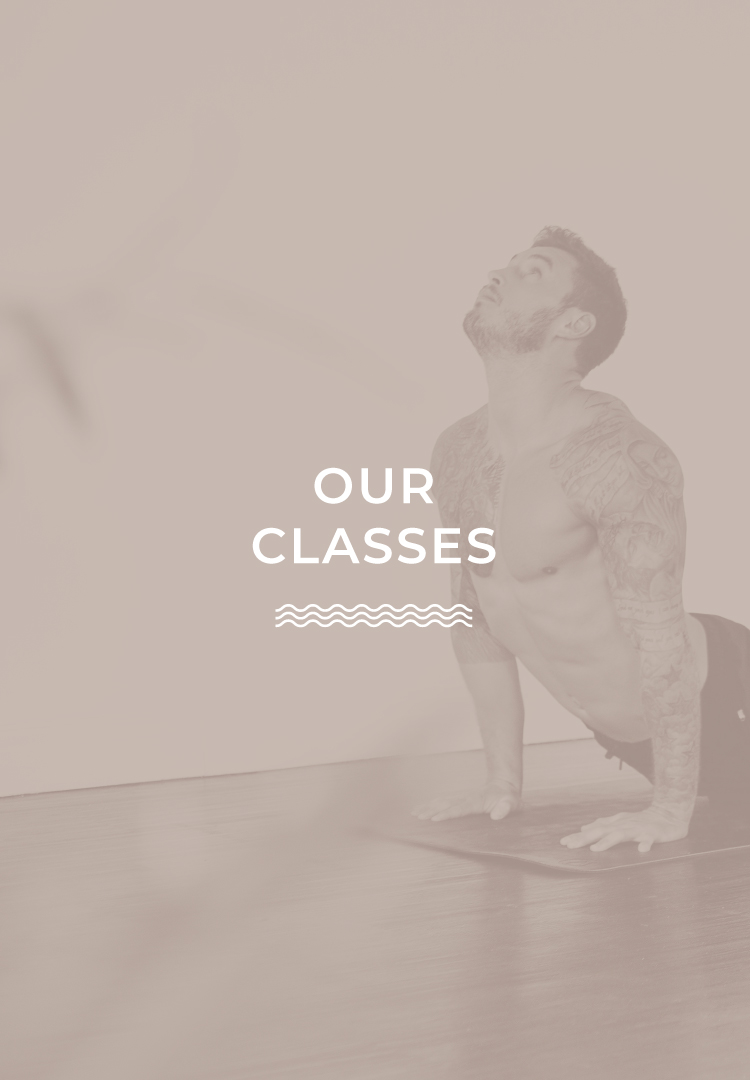 We are a studio built on feelings. When you walk through the door we hope you feel welcomed and at home. Once you arrive onto the mat you feel grounded and safe.  As you leave the studio you feel connected and revived. Embodying that feeling of wholesome.
Even though all of our classes are beginner friendly and can be done by anyone without no experience In yoga, here is a breakdown of the different styles we offer in our timetable –
Hot flow – develops strength, flexibility, and balance in body, mind and spirit. often an adventure in sweat and stamina, students are encouraged to work at their own pace while staying connected to breath for guidance. medium paced to fast paced in parts of the practice.
Yin Yang Fusion – The perfect balance of movement and flow. Yin elements throughout the practice will connect body breath and mind encouraging release and surrender. Whilst the more fluid and dynamic practice will develop strength and mobility. The yang part of the practice will create internal heat holding the asana for around 5 breaths working the muscles. The yin part of the practice becomes more static the postures are held for 3 minutes or more working deep into the connective tissue allowing the inner awareness to grow in stillness. Combining the to together can help create inner harmony. A great beginners vinyasa experience.
Warm Yin Yoga – Practiced in our warm studio 2 YIN yoga is a form of traditional Chinese Medicine. Targeting connective tissues such as ligaments, fascia, bones and even the joints of the body that normal are not exercised very much in a more active style of asana practice. Postures can be held for up 5-8 minutes using such props as bolsters, blocks, straps and blankets to assist. The practice is characterised by long relaxed holds making this class perfect for any complete beginner to yoga. Stimulating the vast fascial network enables the practitioner to move in a more fluid way.
Meditation – Tony will take you on a beautiful dimensional journey with his Tibetan singing bowls, shamanic drumming, crystal therapy bowls, alchemy bowls, panart hangpan drum and much more. Join him in this effortless class to reach a meditative state of peace and clarity from the seamless blend of harmonics and blissful transcendent frequencies.
Hot Rocket Yoga – 'The Rocket' is a playful, powerful sequence of postures rooted in traditional Ashtanga Yoga.
However, what distinguishes Rocket from the Ashtanga series is it's access to modifications allowing the practitioner full ownership of their practice.
If your body is not capable of doing a certain pose, we modify and find the pose for you. We concentrate on the flow. Breath and movement and working with yourself.
All levels welcome.
Mellow Flow – Mellow Flow is the perfect marriage between effort and ease. We will explore softer movement throughout your whole system combined with juicy moments of stillness and breathwork. This class is perfect for slowing down and diving deep into those layers. It's beginner friendly and practiced in a mild heat. A feel -good class leaving you centred, soothed and energised.
Mobility Flow – In this class you will discover the essence of movement. Not structured to be just like your average vinyasa flow , this class consist of more open movements in and around your mat, sometimes even leaving the mat to explore further movement. This moving flow focuses on joint mobility, resistance strength and flexibility, creating new pockets of space and freedom in the body and mind.